Penguin Pools New Vinyl Liner Install
March 27, 2017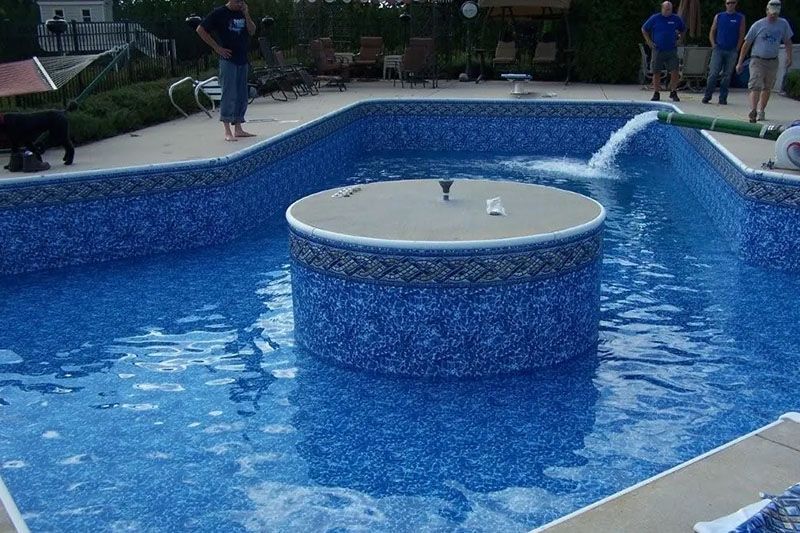 Here is a new vinyl liner install. This pool is 20′ x 50′ so we needed to use 3 vacuums to get the suction we needed on the vinyl liner, even though all the wall seams are sealed up. Penguin Pools uses a water delivery service to fill our pools so it goes much quicker and allows for less problems with wrinkles.
A good pool contractor also changes out all the gaskets and faceplates as needed during inground vinyl liner replacements.
Basic Timeline of Penguin Pools Vinyl Liner Install
Place liner in deep end and open it to the shallow end of pool
Tuck bead into coping at couple of places around pool
Start at the step to make sure it is aligned perfectly, if the step is lined up correctly the rest will fall into place
Start working around the pool tucking the bead into the coping, making sure all the corners are aligned correctly
Once you see that the vinyl liner is where it is supposed to be, place your vacs behind the liner to start sucking the air out. Cap all plumbing/lights/conduit that isn't run yet so you are just pulling air from behind the liner
Install your gaskets and trim pieces around your step
Cut in your main drains installing all gaskets and faceplates
Start filling your pool with water
When the water gets to 1″ above the shallow end, cut in your lights and returns
Run pool lights before water gets to high
Cut in your skimmers
Pull vacs
Finish filling your pool with water
Vinyl Liner Install is done.