Fiberglass Pool Myths: Do Fiberglass Pools Pop Out of the Ground?
February 26, 2016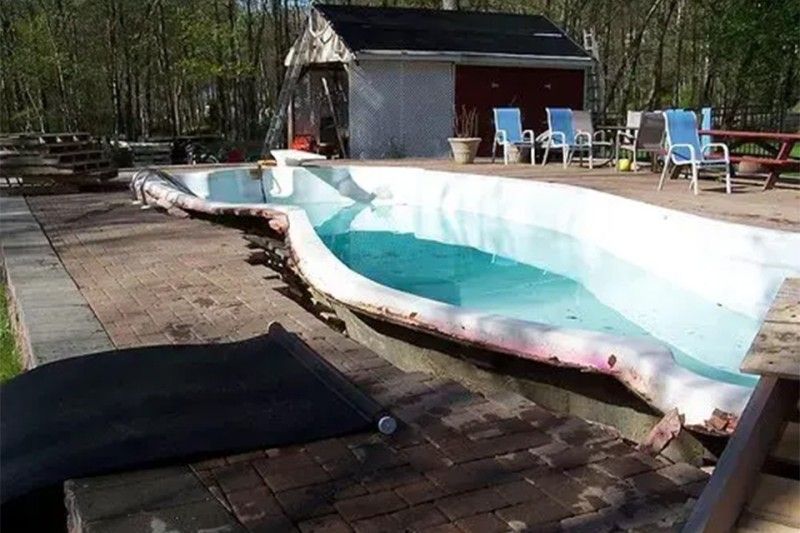 This fiberglass myth is a favorite of inground pool builders who have never installed a fiberglass swimming pool. Concrete and fiberglass pool pop ups are possible if the pool is installed incorrectly.
Getting pool contractors that know what they are doing and understand hydrostatic pressure is key when installing an inground fiberglass swimming pool. 99% of all fiberglass pool don't pop up out of the ground.
Fiberglass Myths
Fiberglass pools don't pop out of the ground unless there is more water, or hydrostatic pressure, under the pool making it want to act like a boat.  Lets get a little technical
Principle of Displacement
Any watertight vessel, in this case your pool, will float, regardless of what it is made of, provided the vessel is empty and there is water under it. This same "principle of displacement" is what allows heavy concrete barges to float as easily as lightweight fiberglass boats. What overcomes displacement? The weight of the water! This is why boats that have sunk do not "pop up" out of the water!
Fiberglass inground specialists don't install boats, they install pools so "Do Fiberglass Pools Pop Out of the Ground" is never an issue.
How to Prevent Fiberglass Pool Pop Ups
The process to prevent fiberglass pool pop ups is rather simple:
Make sure that you don't have any hydrostatic pressure building up under the pool by installing a sump system. Sump systems will prevent fiberglass pool pop ups.
A sump system is the same thing that is used prevent a floating vinyl liner.
Keep your pool full of water.
Keep your fiberglass shell a pool rather than emptying it and turning it into a boat.
Use an Inground Pool Builder who know what they are doing and understands the different soil types and drainage around your property.
Don't use a landscaper who thinks they can install a fiberglass pool and doesn't also offer a variety of swimming pool services. Landscapers aren't inground pool builders even though they try to offer swimming pool services to people.